• chaos • clientel • custom made • fun • home • jewelry • jewelry studio • kids • life • Marinella jewelry • our commitment • pets • protection bracelets • ready to wear • slingshot • special moments • style • work space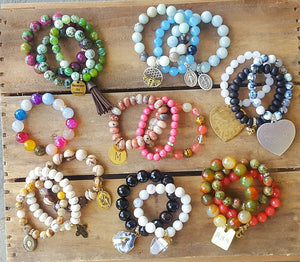 Here at Marinella jewelry our studio and work space is also our owner & designers home. We are well aware of the everyday and not so everyday mix, alongside the fun & chaos of kids, pets & other household interruptions of everyday and not so everyday life. Things don't always go the way you expected or intended in business or otherwise! For example; our Quality Stretch Protection Bracelets by Marinella | The lore of touching, plucking, pulling & flinging them especially by little hands is undeniable. Hence one of the reasons for Our Commitment to You, our treasured clientele and  friends! Our Commitment...
---
• accessories • accessorize with ease and intent • autumn • entertaining • fall winter jewelry collection • freshwater pearls • home decor • jewelry • protection bracelets • relaxed • sophisticated • sophisticated ease • style
Autumn is hands down my most treasured season. Everything from holiday entertaining to the jewelry I've designed. It's about excitedly gearing up for a nonstop flow of guests & clients. I adore entertaining in a relaxed yet elegant way. This is reflected not only in my home decor but in the way I dress. I especially carried my esthetic into this Fall/Winter's jewelry 17' collection. Bring a sophisticated ease into your life style; start with YOU and that ease will carry you thru the upcoming holidays. Accessorize with Ease & Intent.